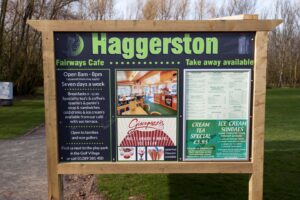 OUR NEXT FIXTURE:   All MEMBERS and VISITORS are kindly asked to pre-book their GOLF tee times on 01289 381400 or by using the on-line booking facility. The ADVENTURE GOLF can only be booked ringing the above number.
Saturday 17th April 10.00am  Stableford
Sunday 18th April  10.ooam  Texas Scramble
(Please ring 01289 381400 for up to date fixtures).
Haggerston Golf Course will now open again on the 29th of March.  It is enjoyable to play and welcomes all classes of golfers from juniors to beginners and even more accomplished players. Memberships are available either to Owners or people in the area. To be able to play either Golf or Crazy Golf you MUST book a tee time on  01289 381400. You are also able to book on-line (ONLY FOR THE GOLF) by clicking on the booking tab and booking as a VISITOR. This can be done up to 14 days in advance . Crazy Golf MUST be booked by telephone. During bad weather tee times can be changed subject to availability.
The course has matured well and now includes water features which can come into play on six of the holes.  It takes about one and a half hours to play and has two sets of tees.  The red tees are suitable for beginners and are all par 3s,  the white tees are more challenging even for more advanced golfers and include five Par 4s.
Fairways Café.  The café will be open from the 29th. for take away and you can pre-order by looking at our on-line menu and ordering on 07496 891027. you can also just order on arrival.
We look forward to seeing you all again more especially as the course is in great condition.
Fred Rogerson